Tips to Protect Your Business From Cyberattacks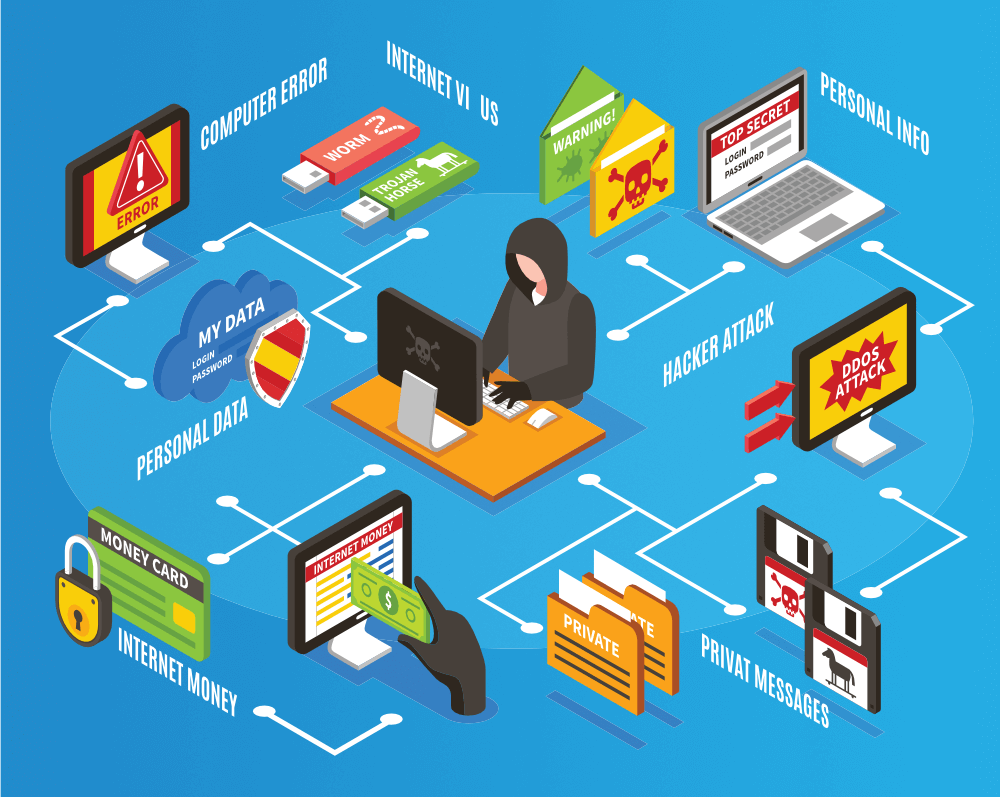 The internet is a complex place, and it's not unusual for companies to encounter cyberattacks. According to a recent survey, nearly half of midsized business owners said that they had suffered a cyberattack. In this article, we will discuss data encryption, restricting employee and third-party access, and limiting public Wi-Fi use. If you're looking to protect your business from cyberattacks, these tips will help.
Data encryption
Businesses are increasingly turning to the internet to conduct their daily business. Unfortunately, this makes them vulnerable to cyberattacks, and 43% of all reported cyberattacks affect small businesses. As such, it is vital to protect sensitive customer and financial data at all times. If you are worried about cyberattacks, consider getting Cyber Liability insurance. This insurance will protect your company from a variety of financial and reputational risks, including identity theft and hacking.
Considering the importance of protecting your business against cyberattacks, you should invest in data encryption. Encryption involves scrambling text so that it is only readable by someone who has a secret code, or decryption key. Encryption helps protect sensitive data. In an age when vast amounts of personal information are stored online and in servers connected to the internet, encryption is essential for protecting sensitive information.
Keeping track of all devices, software, and data is crucial. Encryption is the most effective way to protect sensitive business data, such as customer information, from hackers. Besides encrypting data, businesses should keep a secure backup of data. They should also make sure to use password-protected Wi-Fi networks and make sure that employees do not share the password with others. It is also essential to maintain data records, and keep a backup of any files.
Another great way to protect your business from cyberattacks is to educate your employees. Employees are the first line of defense against cyber threats, so they should be aware of their role in protecting the business. Customer information is vital to a business, and losing it can hurt your reputation and have legal implications. One way to do this is to use payment gateway providers to protect your data. They can also protect your business against online payment fraud.
Encrypting data is one of the best tips to protect your business from cyberattacks. While encryption is not a 100% guarantee against cyberattacks, it can help you ensure that your data is safe from thieves. By encrypting all your data, you can reduce the risk of losing important business information. When done correctly, data encryption will protect your business and your clients' data.
Restricting employee access
The best way to safeguard your business from cyberattacks is to restrict employee access to company data. This is important for several reasons. First of all, limiting employee access to company data prevents them from unintentionally downloading malware. Second, it protects your business against external hackers. Keep in mind that not all attacks originate from outside companies. You must have employee passwords and other credentials encrypted.
It is imperative to limit administrative computer privileges. This is important because it can be used by hackers to install malware and other malicious software. Third-party apps and unused software should be removed from employees' computers. You should also ensure that your cybersecurity policy reflects your business's policy with your partners'. Coordinated online safety measures will help close loopholes and ensure compliance with industry standards.
To protect sensitive information, you must limit access to company computers and equipment. Make sure all employees are aware of the rules and policies of the company. Disconnecting old equipment and software from the network may make it easier for hackers to gain access to sensitive information. Also, remove access to your systems from previous employees and anyone who has changed roles. Remember to create a clear policy for all employees and third-parties.
Aside from the above-mentioned steps, you must also create a security conscious culture and educate your staff about cybersecurity. For example, never share passwords with employees or ask them to log in temporarily for contractors or new hires. You can also use password sharing protocols and assign IT admins specific user rights to limit employee access to data. The more you know, the better. The most important aspect of protecting your business from cyberattacks is to be proactive in preventing these attacks.
In addition to password protection, you must implement a comprehensive incident response plan to minimize the risk of a cyberattack. An incident response plan is vital for preventing data leaks and minimizing the damage they can cause. By implementing a comprehensive cyber-protection plan, you can minimize the risk of damaging your customers' information or reputation. Finally, remember to keep updated on the latest security technologies.
Restricting third-party access
For many businesses, a major source of risk stems from privileged third-party access. The fact is that most organizations grant third-party users remote access to company data and internal systems, which can expose them to a real cyber threat. By restricting third-party access, organizations can safeguard their businesses from cyberattacks. However, this is easier said than done. First, they need to define who can access sensitive data. This should include any vendor who can access sensitive information.
Another major risk is insider access to sensitive information. This opens up the door to hackers and malware. The key to protecting sensitive data is to limit third-party access and monitor the actions of users. This enables you to detect suspicious activity and take action if necessary. If you do not have the internal resources, you can outsource the tasks to external parties. But the main advantage of outsourcing is that the process is cheaper.
A third-party vendor may need network access or only specific data. In such cases, you must focus your third-party vendor assessment on access. If you have a "least-privileged" policy, define who is allowed access and what can be accessed. Lastly, review the use of credentials and limit access to only temporary, if any. This way, you can prevent cyberattacks and maintain your security posture.
Besides limiting third-party access, you should also restrict access to administrative accounts. These accounts should only be used when necessary. Also, they should not be used for email reading or browsing the internet. Keeping records of your computer equipment and software can also help protect your business from cyberattacks. Make sure to avoid using portable hard drives as they are likely to carry viruses that are unidentified.
Restricting public Wi-Fi access
While employees may be allowed to use your Wi-Fi, limiting their access to the internet is vital to protecting your business from cyberattacks. Guests and employees using public Wi-Fi can access sensitive company information, so you need to make sure that your Wi-Fi is secure. It is also important to monitor your employees' online activities and only allow them to use the network when they have authorization to do so. Also, you should restrict employee access to public Wi-Fi networks and scan USB sticks before letting them use them.
In addition to limiting unauthorized Wi-Fi access, you should also be aware of the types of attacks that can take place over the Internet. For example, the KRACK attack, or "man-in-the-middle attack," uses unsecured network communications to intercept data. This attack is difficult to detect because it can mimic normal network transmissions and thus appear legitimate.
Another way to protect your sensitive data is to turn off file sharing when using public Wi-Fi. File sharing can make your folders visible to anyone on the same public network. Disabling file sharing will also prevent fraudsters from intercepting your sensitive data. While you may not think you're protecting your company from cyberattacks, this security measure is worth the extra time and effort.
To protect your network from cyberattacks, you can set up a virtual private network for employees. Additionally, you can also update your home router with the latest software and unique passphrase. You should also set up separate WiFi networks for personal devices and company ones. Personal devices should be kept in secure locations and set to automatically log out when not in use. Employees should use only their work devices and avoid using public Wi-Fi for personal activities.