Ultimate Guide of Using Dropbox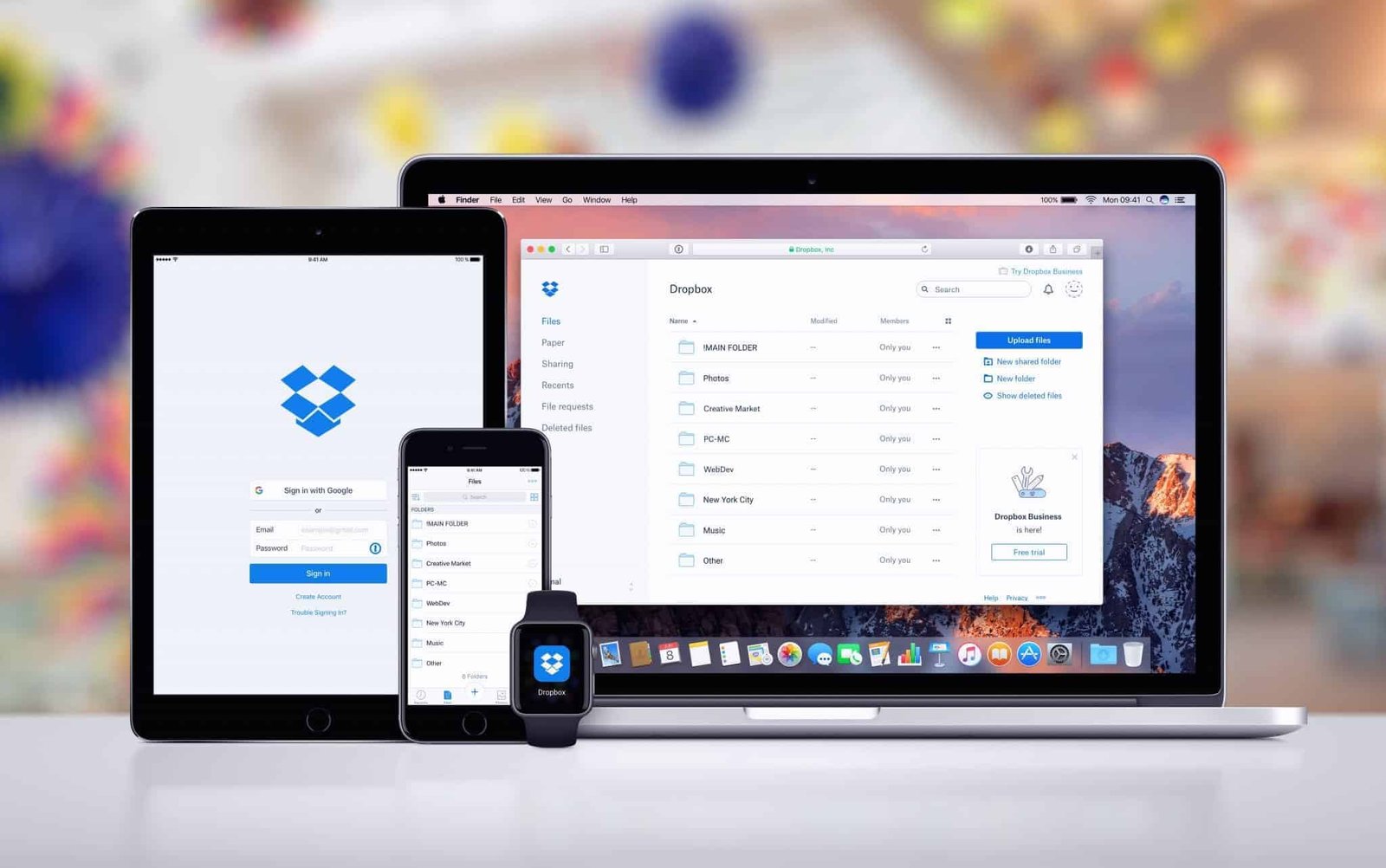 Dropbox is a file hosting service operated by the American company Dropbox, Inc., headquartered in San Francisco, California, U.S., that offers cloud storage, file synchronization, personal cloud, and client software. Dropbox was founded in 2007 by MIT students Drew Houston and Arash Ferdowsi as a startup company, with initial funding from seed accelerator Y Combinator.
Dropbox brings files together in one central place by creating a special folder on the user's computer. The contents of these folders are synchronized to Dropbox's servers and to other computers and devices where the user has installed Dropbox, keeping the same files up-to-date on all devices. Dropbox uses a freemium business model, where users are offered a free account with a set storage size, with paid subscriptions available that offer more capacity and additional features.
Dropbox Basic users are given two gigabytes of free storage space. Dropbox offers computer apps for Microsoft Windows, Apple macOS, and Linux computers, and mobile apps for iOS, Android, and Windows Phone smartphones and tablets.
Advantages and Disadvantages of Using Dropbox:
Advantages:-
Today, there are many ways to store and share files. One of these ways is by using Dropbox. This is a method for personal cloud storage. It is commonly referred to as a method to back up one's files online. In addition to storing the files, one can also share them with colleagues and friends, all using Dropbox.
You can store documents, pictures, videos and presentations in Dropbox. To store, retrieve and manage your files, one can use a Dropbox application. This application is compatible with Mac, Windows and Linux systems. Moreover, there are Dropbox applications for smartphones.
They can be downloaded and used on any smartphone running Android, iOS, and even on Blackberry. Read on for some advantages and disadvantages of this service. Advantages of Dropbox The main advantage of Dropbox is that it is completely free. There are no upfront charges or any additional charges once you start using the service. When you register for a Dropbox account, you automatically get 2 gigabytes (GB) of storage space. This is a good amount of storage space.
However, there are methods that you can use to increase the space without paying a single cent. These methods include sending fan mail about Dropbox, connecting your Dropbox to social media as well as inviting family, friends and other people to join Dropbox. Dropbox is extremely convenient. It is easy to use, and one can learn how to use it very quickly. You can access Dropbox by connecting to the Internet.
On the other hand, you can simply download the application on your smart devices and your computer. Thus, you can simply open the application and upload or download files. Dropbox is designed such that you will be able to access the latest version of every file. As such, if you update a document using your smartphone, you can download the same updated document using your computer. By using the application, you bypass the need for a browser.
You can share files using Dropbox. To accomplish this, all that you need to do is place the files in a folder that is designated for sharing with specified users or the general public. In addition to this, Dropbox is an ideal platform for backing up information. This means that if your computer crashes or your smartphone is lost, you can easily use Dropbox to access all the files that were in them. This saves you a headache.
Disadvantages:
The disadvantage of this service is that the administrators or developers who maintain the service have the right to delete information from free, inactive accounts. This means that if you store some information on Dropbox and abandon the account for a few months, it is unlikely that you will get it after you log back on. Also, there are serious concerns about the security of Dropbox.
There have been various cases of servers being hacked and information stolen. Thus, one would want any sensitive information stored on Dropbox to remain secure. Currently, the encryption used to secure user data on Dropbox is only known to the developers.
Users are not allowed to perform encryption on their information before uploading it on Dropbox Overall; Dropbox is an amazing method to store and share files online. However, it is for casual files and not very sensitive ones.
Alternatives of Dropbox:-
Google Drive
Google Drive is a free cloud storage service that is part of the Google applications suite. It comes with 15GB of free storage space and lets you back up all of your photos and videos at a reduced quality without them counting against your free account storage.
Pros:
Access to your content is encrypted and safe.
Ad customization isn't done with your files.
Docs, Sheets, Slides, Microsoft Office, Slack, Salesforce, DocuSign, Autodesk, and more apps and tools are all integrated.
It includes Google's AI and search engine, which can help you find files up to 50% faster.
Offers 15GB of cloud storage for free.
Cons:
There is no limitless storage with any of the paid options.
There are no plans for unlimited cloud storage.
NordLocker
Pros:
NordLocker subscribers get 3GB of free secure cloud storage space.
Both local and cloud lockers allow you to add files.
Content backup to the cloud and automatic cross-platform synchronization.
You can work on your documents and open files directly from your lockers (no decryption needed).
Money-back guarantee for 30 days.
Cons:
There are no plans for unlimited cloud storage.
Amazon Drive
Pros:
The setup is simple.
5 GB of cloud storage for free.
Uploading entire folders is now possible.
Backups are performed automatically and regularly (you can edit your schedule anytime).
With an Amazon Prime subscription, you get unlimited photo storage.
There are various ways to share your content, including via links, email, Facebook, and Twitter.
Cons:
There are no plans for unlimited cloud storage.
There is no limitless storage with any of the premium options.
Amazon Drive is a cloud storage service provided by Amazon, the e-commerce powerhouse. Secure file backups, easy sharing and preview, cloud storage, and on-demand photo printing via the Amazon Prints service are all available if you want to save all of your beautiful memories.
All you need is an Amazon account to access unrivalled cloud storage. You can access your images, movies, and data on various devices, including your computer and mobile phone, whenever the need arises. Amazon Drive has different storage plans ranging from 100GB to 30TB, so you'll have many alternatives to match your demands.
OneDrive
Microsoft's OneDrive is an easy-to-use cloud storage solution. Its basic package includes 5GB of storage capacity. The best part about Microsoft OneDrive is that if you also use Microsoft Office, the Microsoft.
Pros:
Free cloud storage for photos and files of up to 5GB.
All of your photographs, files, and documents are accessible.
Easy file sharing with family and friends and the ability to collaborate in real-time on Office files and documents.
Option to back up your phone's photographs automatically. Advanced sync technology.
Cons:
The free plan does not include ransomware detection and recovery, file restoration, and password-protected sharing links.
There are no plans for unlimited cloud storage.
Icedrive
Icedrive was established in the year 2019. Ice drive, despite being new to the market, has already created a solid first impression. The unbreakable Twofish encryption technique, client-side encryption, zero-knowledge privacy, intuitive interface design, and competitive costs are just a few features.
The unique drive-mounting software is one of Ice drive's outstanding features. This makes your cloud storage feel like a real hard drive without the requirement for synchronization or bandwidth usage.
Pros:
A generous 10GB of cloud storage is provided for free.
Zero-knowledge encryption on the client-side.
Uninterrupted cloud storage services require a lot of bandwidth.
Passwords are used to restrict access to shared files.
Web, desktop & laptop, and mobile & tablet apps that are clean and easy to use.
Cons:-
On the free plan, there is no client-side encryption.
Conclusion:-
File servers tend to offer greater security since they are in your office and not on the public Internet, like Dropbox. Dropbox offers greater convenience, but this convenience comes at the cost of higher security risks. If you use Dropbox, it is important to minimize these risks by having your own backup of your data and having good security procedures in place on your computers.
Dropbox can be an appealing and cost-effective option for easily sharing files with your team and outside collaborators, but it does not make sense in all situations. Additionally, there are some additional security concerns that one needs to think through and protect against. Frequently asked questions:-
Q1. What is a Dropbox for Teams user?
A user is any person on your team with their own unique email address. Each team member should have his or her own user licence. And each user can link their Dropbox account to as many of their devices as they'd like (PCs, phones, tablets, etc.) at no additional charge.
Q2. What is the difference between Dropbox Standard and Advanced?
Standard provides teams with 5,000 GB of storage with easy-to-use security, sharing and collaboration tools. Advanced includes as much space as you need in addition to robust security controls and alerts. To learn more, compare Dropbox plans.
Q3. Can I upgrade my existing Basic or Plus account?
How does migration work? If you already use Dropbox, moving to a team plan is easy! All your content will stay the same – your files will stay where they are, and all your settings (like shared folder relationships and linked devices) will remain the same. For admins, your team members who already use Dropbox will have the same experience.
And anyone without an existing Dropbox account will be prompted to sign up when you send them an invitation. For Plus users who switch to a team plan, any remaining credits will be returned as a pro-rated refund to the original payment method.
Q4. Do you have any discounts for non-profits or educational institutions?
Yes! Please contact our sales team for more information. To provide the discount, a sales rep will need a copy of your 501(c).