Top 10 Data and Analytics Trends Ruling the Roost in 2022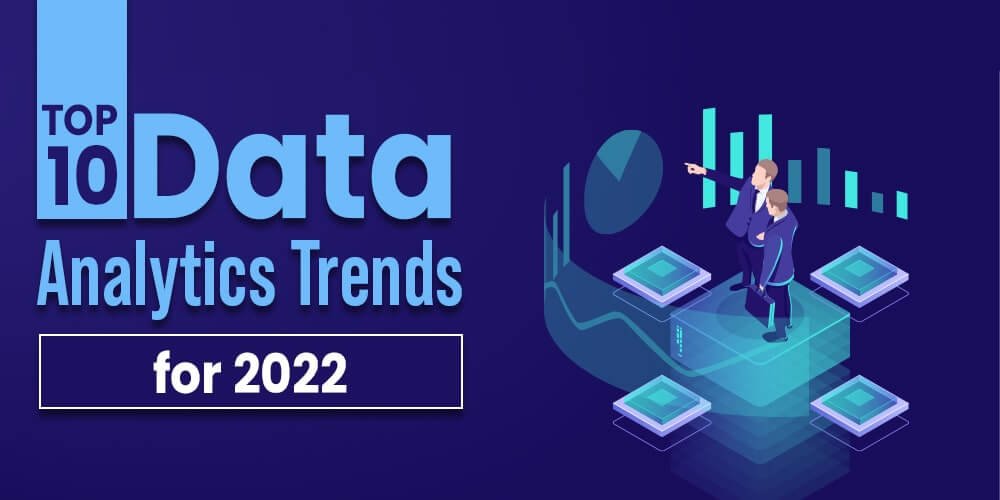 The next decade is set to be one of the most dynamic in data and analytics, but what are the trends we should be watching? Here are 10 predictions for the next five years: Scalable and Responsible AI, Hybrid, Multi-cloud, Edge Computing, and more. Read on to see what you should be doing with these trends! If you're ready to make some major changes in the way you manage data, now is the time to do so.
Scalable and Responsible AI
In the years ahead, companies will prioritize accommodating regulations and integrating privacy controls into their digital platforms. While a hyper-personal experience is known to increase loyalty and revenue, companies must ensure that they protect customer information and provide them with a choice over how their information is used. While AI technology is rapidly evolving, governance and checks and balances will soon catch up with it. In the coming years, more companies will look to machine learning operations to provide robust AI solutions across various departments and functions.
According to a new survey by PwC Research, companies that adopt holistic AI approaches are twice as likely to report widespread adoption of AI. This is because holistic AI approaches enable data sharing and scale, and also align the outcomes with business priorities. Companies that adopt this approach are more likely to see real-world business value from AI initiatives. The report also notes that these companies are likely to be able to build a centralized team to manage data governance and sharing.
While traditional BI and analytics vendors are struggling with positioning, it's important to differentiate their products to attract customers. Rather than claiming to be the world's best analytics provider, these companies should position themselves as a modern analytics cloud company, which they will call a "modern analytics cloud company". This positioning is important because companies that have been around longer will eventually be displaced by more mature technologies.
Hybrid
Cloud technology continues to advance rapidly, with companies increasingly shifting to hybrid solutions and the cloud. Gartner predicts that 90% of all data innovation will be cloud-based by 2022. Companies benefit from the cost savings and flexibility of a hybrid data and analytics environment, which can help them manage and prioritize unstructured data while reducing IT complexity. Cloud-based applications can help organizations maintain governance and reduce security risks while reducing operational costs.
Cloud computing, data monetization, and edge technologies will continue to transform traditional analytics. Organizations should explore new transformation strategies and invest in the right accelerators to modernize legacy systems and fuel growth. The invasion of Ukraine by Russia added geopolitical tension and persistent volatility to the mix. Companies will focus more on identifying and leveraging data and analytics trends. In addition to these emerging technologies, companies should focus on data literacy and the shortage of data and analytics talent.
Whether a company is looking to implement a single cloud solution or multiple, a hybrid strategy is essential. In 2022, enterprises will begin to adopt DataOps methodologies and tools to increase agility and unlock business value more quickly. Low-code/no-code platforms will increase their prominence and deliver business-ready data. Enterprise teams will need to embrace these tools and learn to implement them seamlessly across multicloud environments.
Multi-cloud
In addition to increasing the speed at which companies can access and process data, Multi-Cloud technology is becoming more important for business operations. In fact, McKinsey has forecast that over 70% of businesses will be using hybrid/multi-cloud technologies by 2022. Edge computing, or the processing of data at the edge of a network, improves decision-making through on-demand analytics. Every business generates massive amounts of unstructured data, which is difficult to manage with traditional batch reporting methods.
The use of cloud-based data and analytics services has become a de facto standard for organizations. According to the survey, 89 percent of respondents plan to use a multi-cloud strategy. Eighty percent plan to use both private and public clouds. But the trend of moving to public clouds is waning, as businesses find it more difficult to scale their operations and avoid spiraling costs.
Hybrid cloud adoption is also expected to continue its rapid growth in 2022. The majority of enterprises today use 2.6 public clouds and 2.7 private clouds. Multi-cloud data and analytics trends ruling the roost in 2022 will include a focus on controlling costs, securing data, and ensuring that workloads are matched with the appropriate cloud services. In addition to multi-cloud adoption, container technologies are becoming more common.
and Edge Computing
Whether you're a retailer or an enterprise, the next few years will be critical for your business. As we move closer to the internet of things and private 5G networks, edge computing will be an integral part of digital transformation. This new technology will help companies distribute traffic, reduce latency, and protect sensitive business data. And as we become more connected, we'll be replacing humans with machines.
With all that data, what's next? What can edge computing do for your business? Among other benefits, it will help companies increase flexibility and scalability, reduce latency, and improve productivity and collaboration. Edge computing is also a powerful platform to develop new analytics capabilities. With the right approach, your business can reap the benefits of composable analytics.
With data volume growing by the day, cloud computing isn't the only option. Mobile edge computing, for example, will increase the speed of mobile networks 10 times higher than 4G. The combination of these technologies will enable high-volume data processing, accelerating innovation in a variety of fields. However, this technology will need to be fine-tuned and integrated into business processes before it becomes a viable option for businesses.
Cloud computing is another important data and analytics trend for 2022. With hybrid clouds, organizations can utilize both public and private clouds. With hybrid cloud services, enterprises can have the benefits of both while still maintaining security and scalability. By combining private and public cloud services, companies can increase their efficiency and agility without incurring huge costs. In addition, cloud computing can also improve the safety and security of data.
Data Fabric Architecture
A key advantage of a data fabric is that it supports the digital business landscape. The data fabric architecture enables composability, which allows for integration of new features and changes into enterprise applications without having to overhaul the tech stack. According to Gartner, data fabric architecture can reduce deployment and maintenance times by 30% or more. Data fabric is an integrated layer of data connected across multiple sources to deliver a holistic view of the business.
The data fabric architecture is a central repository where rules and policies are created and automatically linked to the data assets. These policies cover data privacy, access controls, security, and quality. A data fabric can also enforce data governance and other policies across a wide range of environments. A data fabric supports end-to-end lifecycle, MLOps, and a data pipeline.
Data fabric architectures enable enterprise-wide data analytics. It streamlines data discovery, data collection, and data integration into a single unified data platform. Data fabric architectures also support governance and compliance, and automate data integration. With the right data fabric, companies can reduce the time to insights and accelerate digital transformation. But how do you get there? Read on!
Data Democratization and Self-service Analytics
Self-service analytics and data democratization are both key to improving the integration of data within an organization. These trends help reduce time and bottlenecks in the analytics process by empowering employees to make their own decisions with data. Self-service analytics also improves the quality of insights by addressing the root causes of most data-related roadblocks.
In a recent survey, the Pew Research Center and Elon University's Imagining the Internet Center asked experts to imagine the future of online public discussion spaces and social media platforms. More than 860 experts responded to the survey. They were asked to imagine the world they would like to use in 2035. Among them, 434 answered the question "What would make the online world better in 2035?" The full 108-page report is available online. It can be printed, if desired.